Munster Church Activities
Serving Munster and area since 1823
On Sunday, 28 October 2017 we will be celebrating our 194th anniversary of the Munster Church congregation.  We will be celebrating, working, helping others, on our journey toward our bicentennial in 2023.
Join Us in Worship
We welcome everyone to join with us in worship.  If you're new to the area or community, please feel free to check us out and see what we do, what our church is like inside, and meet us.  No matter where you are in your faith journey, we welcome you to join with us.  Our service times alternate between 9:30 and 11:00 am on Sundays.  Check this week's service time at this page.
Discover Your Community Church
Munster United Church is a community church.  We feel we are an integral participant in our community.  We recognize we are involved with many families: our church family, our community family, and our extended community family.  While we cannot be everything to everyone, we work at helping others in need, supporting worthy causes when possible, participating in community events, and enriching the lives of those in our various families.  We offer more than just Sunday worship time.
If you are in need or looking for one of the following, join us or contact us:
– a quiet moment to reflect,
– to make new friends,
– a place to worship,
– to contribute some of your talent and/or skills,
– to sing more,
– to enjoy the beauty of our stain glass windows and the story they contain,
– to listen to the music,
– to enjoy fellowship and goodies following a worship service,
– to enjoy being part of the Wednesday morning Coffee Break gatherings,
– to learn more and gain more insight about things through Bible Study,
– to have some time just listen to music while the choir is rehearsing,
– to support your community church financially to help it take on more,
– to volunteer with a church project or activity.
For information about our current (supply) minister, please see our About our Minister page.
If you're interested in our search for a regular minister, you can read information about this on our About our Minister page.
Events
Don't forget we also post event updates following events.  They can be found farther down this page.
Annual Frozen Berry Sale
Order deadline:  Friday, 20 October 2017
Berry Pick-up:  Saturday 4 November 2017  10:00 to 11:00 am
Our choir will soon be contacting people about our annual frozen berry sale.  We are very pleased to let you know that the prices for 2017 are unchanged from last year.  If you have ordered from us in the past, you can expect a choir member to contact you in the next while to see if you need berries and wish to order. If you wish to be proactive, you can be in touch with your choir contact soon.  They will receive their sales package on Thursday, 6 October and be ready to receive your order.
The deadline for you to submit you order is Friday, 20 October at suppertime.
Berry pick-up will take place Saturday, 4 November between 10:00 and 11:00 am.  That morning we'll have choir members upstairs at the back of Munster church ready to handle your order.  They will take your claim ticket and exchange it for a large print piece of paper that the 'berry man' across the street in the ball park parking lot can read and give you your berries.
Berry prices are:
Blueberries    2 Kg / 4.4 lbs  for $19
Raspberries    2.5 Kg / 5.5 lbs   for  $29
Cranberries   2 Kg  / 4.4 lbs   for $16
We're looking forward to serving your berry needs.  If you don't have a choir contact and would like to order, send us a message at Munster United Church.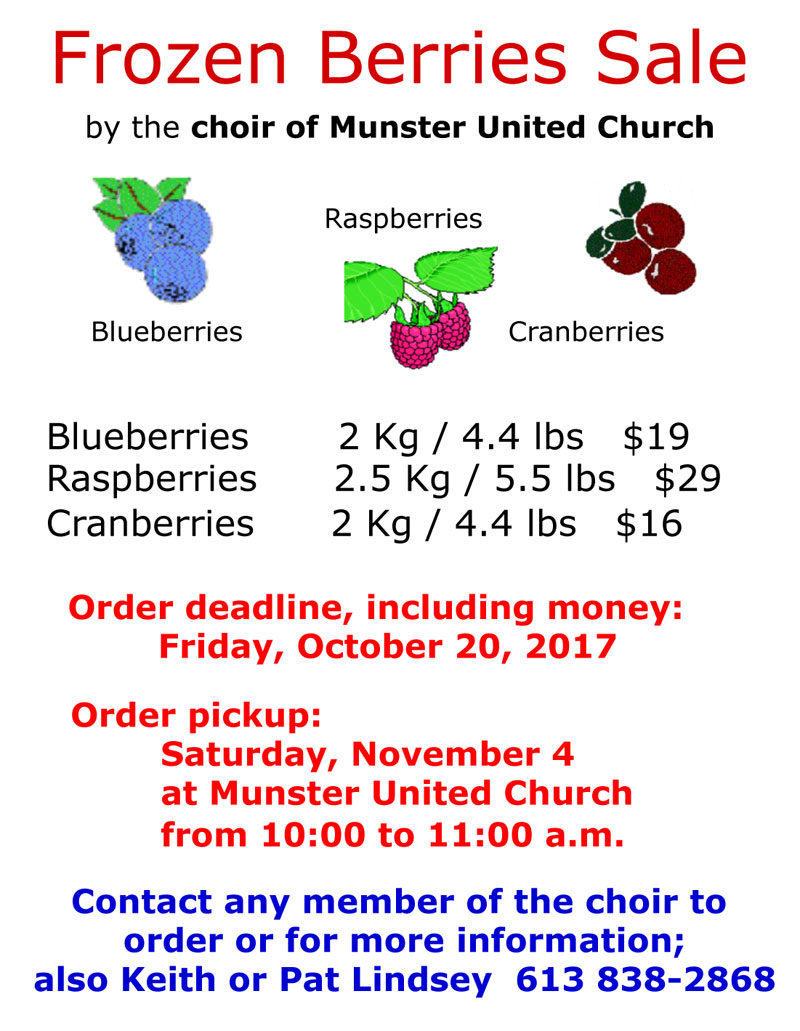 Anniversary Service of Worship
Sunday, 29 October 2017 – 11:00 am
We will be celebrating another year of worship and service to our community and larger neighbourhood on Sunday morning, 29 October 2017.  We extend a warm invitation for you to join us as we celebrate.  It will be another anniversary along our journey to our 200th anniversary in 2023.
Join us at 11:00 am.  We are thrilled to have Ruth Sword as our guest worship leader this morning.  Ruth and her husband David lived in Munster for many years.  It will be a pleasure to see them again, to have them see what's new in the community, for them to meet you, and to hear Ruth's message.  We're looking forward to seeing you with us.
Upcoming Events
Here are the events in the planning stages and expected.  We hope you'll join us for an enjoyable time and any of these events.  Details will appear as they become available.
Saturday, 21 October – Ceilidh – CANCELLED
Friday, 20 October – deadline for your frozen berry order
Sunday, 29 October – Anniversary Service of Worship.  Ruth Sword will be our guest worship leader.
Saturday, 4 November – Frozen Berry pick-up 10:00 to 11:00 am at Munster Church
Saturday, 18 November – Book and Bake Sale
Saturday, 2 December – Ottawa Police Choir  2:00 pm
Bible Study – Mondays, 10:00 to 11:30 am
Details on the Pastoral Charge Activities and Events page.  Note we have finished until the fall.
Announcements
Missing – Bench
The wooden bench in the flower garden of Munster United Church has gone missing.  The bench offers the opportunity for people to sit, relax, reflect on things, and enjoy the view of the flowers and has been used numerous times for this.  The bench was made by a member of our congregation.
If you have removed the bench, we would appreciate it's return – no questions asked.  If you have borrowed it, enough time has passed that you should have finished with it and it's time to return it.  If you have seen our bench or know of it's whereabouts, please help us out and let us know where we can find it.
Here are a few views of the bench.
Business as Usual
A reminder that while we do not have a regular minister, you do not need to avoid attending our church services of worship.  We have arranged for a Supply Minister to conduct our Sunday services while we search for a regular minister.  Rev. Martin Carnahan will be with us conducting the Sunday services.  He will also have another weekday available to us for visitation, meetings, counselling, etc.
Summer Services
For many years we have changed our two worship services each Sunday to one service each Sunday during July and August.  Typically every church, not just ours, sees a decline in attendance in the summer.  People decide they'd like to take a Sunday or two off, they visit family, go on vacation for a period of time, or even take the opportunity to visit another church in a different area and worship with that congregation.
During summer we hold one service on Sundays and it alternates between Ashton and Munster United Churches.  In order to maximize your time to enjoy the warm weather, our July and August services start at 9:30 am.  We will post the summer service times for 2018 in advance of those services, when the Official Board discusses and determines time and which church starts the first service.
Support for the Food Bank
Most times of the year are when the needs of our local Food Bank are the greatest.  Many Food Bank recipients are forced to spend more of their budget for supporting their children and/or utilities.  We encourage you to keep your donations for the Food Bank coming because together we make a difference in our own backyard.  As there are special occasions and holidays during the year, we can make an extra, special effort to donate a little extra to help make these holiday times very meaningful for those who depend on the Food Bank.
Appreciation for and Recognition of Carleton Refrigeration, Heating, and Air Conditioning
Munster United Church appreciates the care and attention that Carleton refrigeration gives to our heating system.  Carleton Refrigeration continues to take care of our furnaces to keep them in proper and peak operating condition so all of us in worship and during other community and outreach activities stay comfortable.
Scripture Reading During the Service
If you would like to read scripture as part of the worship service, let Mary Tubman know and indicate your preferences.  You do not need to be a great reader to take part, nor are you expected to read each week.  Young or old, everyone is eligible and welcome.  We have a pool of readers lined up and they read on a somewhat rotational basis.  If you are concerned you might not be good enough to read, you needn't worry.  No readers have been harmed in any reading, have not picked up any afflictions, nor have any died from exposure to reading.  If that isn't enough assurance you too would be a fine reader, all readers say they have enjoyed their times reading and feel better for it.  We can always use another reader – even if you want to read every two or three months.
Keeping in Touch and Up To Date
A few members of Munster United Church have moved away either to another province or another country.  It was thought that you might like to stay in touch with things that happen that would not normally be shown on the web site (e.g. deaths).  So a new page called "Moved Away – Your Updates" was created under Links.  Periodically the page will be updated with this type of information, essentially as it happens so you can stay informed.  For deaths of members, etc., most people will hear about this, sometimes later rather than in a timely manner.  The page is password protected because of the type of information contained on it.   If you have moved away and would like to be able to access this type of news, please send Keith Lindsey a message using this page.  He will be able to forward the password to you.
Seating Available
An adequate supply of seats is available in the left section for anyone attending our services. In the left section you will have an excellent selection of seats from the front to the back. Each pew is well stocked with hymn books and Bibles. The view of the front area is unobstructed and you will be sitting closest to the hymn numbers board.
Occasionally a few others will sit in the left section of pews but a very good selection of seats will still be available. If you wish to sit in the centre or right sections, you are still welcome to do so. However, be advised that selection of seating is much more restricted – unless you arrive sufficiently early for a service when you will enjoy your unrestricted choice of seats. It has been observed that the centre and right sections fill up much more quickly than the left section. So you have a choice – centre and right sections if you want to be in amongst many other people and possibly have a slightly limited view, or enjoy ample leg and elbow room with a clear, unobstructed view of the front when sitting in the left section. The choice is yours.
Update:  Some people have taken note of the above words and invitation.  More pews in this section are being occupied Sunday mornings.  However, do not let this discourage you from sitting here, there are still good seats with a view available.
Event Updates
Ongoing Activities
Support for the Food Bank
Rhonda Fields is our coordinator for our donations to the Food Bank. Munster Church supports the Richmond Food Bank with regular donations and we welcome your support of food and related items for needy families and the elderly.  The Richmond Food Bank supports those families in the area in need, including people in Munster.
Bring your contributions and place them in the box in the church front entrance.  Items are taken to the Food Bank weekly. If you have any questions please speak with Rhonda. When special needs occur at particular times of the year, Rhonda will announce these in church.  We will do our best to keep this site updated with those timely needs.
We thank everyone for your year round support for this worthy cause and for making meals special for some people.
Wednesday Morning Coffee Breaks
Wednesday mornings 9:30 – 11:00 AM when school is in 'session'.
A time for mothers, dads, women, men, pre-school children, and those without children to gather for juice, coffee, and cookies and mingling. Join us and enjoy some Fair Trade coffee and tea. Coffee mornings take place each Wednesday morning from 9:30 to 11:00 AM.  We gather for the first time in the season in September the week of Labour Day on the Tuesday, not Wednesday.  The Tuesday is a nice transition for moms, dads, and preschoolers who might miss their brothers and sisters at school.  When it comes close to Christmas time we stop gathering until after New Years.  We also stop meeting after the kids finish at the end of the school year.
Thursday Adult Choir Rehearsal
Thursday evening 7:30 – 9:00 PM.
We rehearse from September to mid-May to prepare the hymns and a Sunday anthem. If you have an interest in singing with us, or just wish to sit in and hear some of our music or for a period of meditation with musical accompaniment, join us Thursday evenings.
Publications Available
Two books were published this (2012) fall. The first is "Historic Churches of the Ottawa Valley" by Alan Bentley.  These are available at Munster United Church.  The price is $25, with $10 of that going to Munster Church.
The other publication is "The Early Ministers" talks about the early ministers around the time of the start of the Munster congregation serving the early community and the church in Munster.
Church Outreach Program
Following the success of the outreach program at Ashton United Church, Munster Church Council thinks the idea and results are very worthwhile. The Munster Church program is actually a series of smaller outreach projects.
To start, our first project is receiving old and unused pairs of glasses. We will forward glasses received to Laurier Optical which will then send to the people of Haiti.  They also send an eye specialist, to give the gift of an eye exam and prescription lenses in your old frames to people who would not otherwise be able to afford these. Bring in your no longer needed glasses and place them in the box labelled "Glasses for Haiti" and we'll look after the rest.
During the year the Youth Group of the Pastoral Charge decide and take on special projects for outreach.  In the past the Youth Group have supported The Mission through fund raising to provide extra meals to those in need, the Snowsuit Fund to help clothe younger people to keep them warm during winter, and other equally valuable and appreciated causes.
Fund Raising
Munster Church undertakes several fund raising activities and events each year to augment income from offerings and to allow us to undertake programs beyond the basics. Some run on an ongoing basis and are operated by a small group of dedicated people. For example, we have been selling Loblaws Gift Cards for years and the program provides a good return to the Local Fund of Munster Church to support regular programs and special undertakings. Other activities, such as suppers, take place a few times each year and require volunteers.
Loblaws/National Grocers Gift Cards
Simply stated, your church buys gift cards at a discount and sells them to supporters (you) who use the gift cards the same as you spend money. The church earns the difference. The cards are equivalent to cash at Loblaws in Ontario and Quebec), Real Canadian Superstore, Your Independent Grocer, and valu-mart stores. In addition, they can be used at Zehrs, No Frills, Fortinos, Extra Foods, Loblaws Superstore, Provigo, Maxi, Maxi & Co, Atlantic Superstore, and the Real Canadian Wholesale Clubs locally and across the country.
The cards are a convenient way for you to shop because as you spend a portion of the card at a store, their system keeps track of your card balance and that balance is available for your next purchase. No need to carry cheques or cash and have to fumble with or keep track of change. The gift cards come in denominations of $10, $25, $50, $100, and $250.  This allows you to purchase the exact amount you need weekly, every two weeks, monthly, or when is convenient. The cards are preactivated and a per Ontario law, carry no expiration date. Through your generous support, this program has been a resounding success and we thank you for your loyalty for making it so productive.
For information contact Pat or Keith Lindsey. You can purchase cards from Pat or Keith Lindsey.
Fair Trade Coffee
March of 2007 saw the congregation vote to undertake support of Fair Trade coffee. Since then, we have been selling these products and have been using them ourselves for church activities. The program benefits more than one million farmers and farm workers in 58 developing countries and these numbers are increasing. We have your preferred type and flavour of coffee. Check our prices against other Fair Trade suppliers and we know you will be impressed.
Fair Trade principles include:
– democratic and transparent organizations,
– community development,
– environmental sustainability,
– fair prices,
– fair labour conditions, and
– direct trade.
We offer a variety of coffee types. You can choose from ground coffee or beans and regular, decaffeinated, or flavoured.
For current pricing, contact Pat Lindsey.
You can place an order with Pat Lindsey at church, at Wednesday Coffee mornings, by email, or by telephone. We try our best to have stock on hand. You can send Pat an email with your order or requesting information. If you wish to send an email message directly to Pat, send it to muccoffee at gmail dot com. You will need to provide the appropriate substitutions in the gmail string to send your message successfully. Your order will be received by Pat Lindsey and she will reply with the status of your request. Alternately, you can send a message through this site using the Contact Us > Contact Munster UC page. Fair Trade messages will be forwarded to Pat.
We look forward to having you join the Fair Trade supporters and to serving your taste and needs.
Frozen Blueberries, Raspberries, and Cranberries
Every fall, the church choir sells frozen blueberries, raspberries, and cranberries. Orders are typically due in early October; however, timing can change a little. When the drive is in progress, details can be found in the Events section above. If you would like to be notified by email about the sale, please pass your name and email address to Pat Lindsey.  Your email address will only be used for this program and will not be shared with anyone else.  Be among the first to know about the berries by signing up. You can always have your address removed from our list by requesting it.
Colour Prints of Munster United Church
Whether you are a collector of works of local artist Ben Babelowsky, enjoy colour prints of local architecture, a collector of church prints, looking for a special Christmas, wedding, birthday, or baptism gift, or you want something to enjoy looking at on your wall, you will want one of our Munster church prints. They are a limited edition, numbered colour print by local artist Ben Babelowsky and measure approximately 18 inches by 13 inches. They are an attractive addition to any wall and capture a winter moment. In the front right is the old school house, later the Orange Lodge in Munster, then the tea house, then pub, and now "at the School House".
The price is $30 each. You choose the framing to suit your location and placement or the intended recipient. Contact Pat or Keith Lindsey or any member of the Munster Council. There are still prints available.
Church Suppers
Several times during the year, Munster Church holds a supper.  We typically hold one in the fall around the time of our church anniversary. Date, time, and food information will appear in the Events section above and in the event summary section at the top right once the times are known. We have served a variety of suppers in the past including beef, ham, beans, spagetti, and lasagna.  The choice of food type is left to the convenors and is always delicious and appreciated by our supporters.