Pastoral Charge Activities
Need for a Secretary of the Pastoral Charge
We extend great thanks to Lynne Smith who served for several years as our Secretary to the Official Board and who has stepped down.  We are now seeking a replacement for Lynne.  The position traditionally alternates between the two churches.  Lynne is with Munster United Church and so we would like someone from Ashton United Church to step forward and take on the role.  This doesn't stop someone from Munster United Church to apply for the position.  Please submit your interest to the Chair of Official Board, Linda Guetta.
The work involves attending the meetings of the Official Board and taking minutes, typing the minutes up, and distributing them via email.
Search for Half Time Minister Underway
The Ashton-Munster Pastoral Charge has been declared as having a vacancy.  The Ottawa Presbytery approved our documentation and declared the vacancy.  Our search for a candidate in underway.  At our last joint congregation meeting, the terms of our search were set for half time ministry.
Information about our Pastoral Charge, churches and congregations, needs, hopes, communiites, and more is contained in our Joint Needs Assessment Committee Report.  The report can be downloaded from this page.
Events
Official Board Meeting
Monday, 17 September 7:00 pm at Munster United Church
Our regularly scheduled meeting of the Official Board of the Ashton-Munster Pastoral Charge will take place on Monday, 17 September at 7:00 pm in Munster United Church.
Announcements
Try the quiz
A Bible quiz has been added to our site.  The first one is on "They Did It First".  See if your knowledge of the Bible matches up to the questions.  Let Keith know.  If there is sufficient interest the quiz will be changed every two months or so.
Event Updates
Ongoing Activities
Weekly Lectionary Bible Study Group
The Bible Study Group conducts its meetings typically starting in the fall and finishing in May or June.
The morning study group has met every Monday from 10:00 to 11:30 a.m. – except holiday Mondays – in Ashton United Church to discuss the readings of the Sunday past and any other subjects that arise. It is an informal drop-in affair and no sign-up is necessary. Everyone is welcome to come, drop in whenever they can, and discover what it's about. The worship orders of service include information on the morning study group activities and when the group is not able to meet.  The Bible Study Group does not meet on holiday Mondays.  The final meeting for the year is a pot luck lunch.
Bible Study is not taking place until we engage a permanent minister (see above regarding our search).
Youth Group
The Ashton-Munster Pastoral Charge has a Youth Group for boys and girls in our communities in grades 5-8.  The group meets every second Thursday at the Munster School gym from 6:30 to 8:00 pm.  The group provides youth with a wonderful opportunity to make new friends and make a difference in the lives of others.
The year runs until the end of May and includes things like games in the gym, a Hallowe'en party, bowling, mini-putt, skating, and swimming to name a few.  Youth are given the opportunity to help out at church functions, including dinners and barbeques.  Twice a year they are encouraged to be a part of the church worship services in both Ashton and Munster.  The last three years the youth have had the chance to sing Christmas carols to some of the residents at Granite Ridge in Stittsville and to spread a little Christmas cheer.
Each year the Youth Group chooses an outreach project that they would like to support for that year.  They will hold fundraising activities throughout the year to raise money for their cause.  In 2017-2018 they supported Big Sky Ranch which is a local animal sanctuary.  This year their multiple efforts and appearances yielded a total of $1,131.00 for Big Sky Ranch.  The monies will be presented in June.  Some of the outreach they have taken on over the years include Diabetes Canada, the Richmond Food Bank, the Ottawa Mission, CHEO, Interval House, Tysen's Mission to Million, and the Smile Train.  The Ashton-Munster Youth Group is a great way for youth to have some fun and make a difference in our community and beyond.  Come and join us, and see what it is all about!
For more information, please contact Liz Hale.
Peace Blessing
You are the peace of all things calm
You are the place to hide from harm
You are the light that shines in dark
You are the heart's eternal spark
You are the door that's open wide
You are the guest who waits inside
You are the stranger at the door
You are the calling of the poor
You are my Lord and with me from ill
You are the light, the truth, the way
You are my Saviour this very day.
Celtic oral tradition – 1st millenni
A Traditional Scottish Blessing
FAST THIS LENT?
In the words of Pope Francis
Fast from hurting words and say kind words.
Fast from sadness and be filled with gratitude.
Fast from anger and be filled with patience.
Fast from pessimism and be filled with hope period
Fast from worries and have trust in God.
Fast from complaints and contemplate simplicity.
Fast from pressures and be prayerful.
Fast from bitterness and fill your hearts with joy.
Fast from selfishness and be compassionate to others.
Fast from grudges and be reconciled.
Fast from words and be silent so you can listen.
pietrafitness.com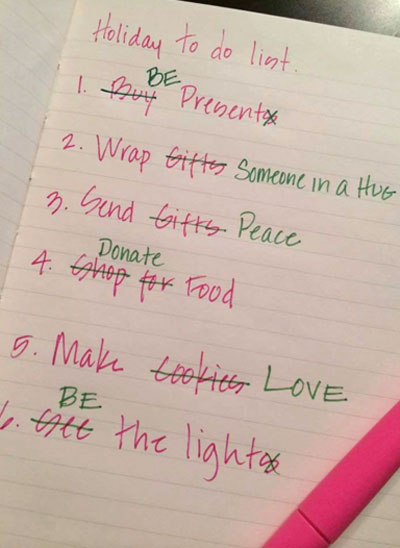 Ten Ways to Love
Listen without interrupting (Proverbs 18)
Speak without accusing (James 1:19)
Give without sparing (Proverbs 21:26)
Pray without ceasing (Colossians 1:9)
Answer without arguing (Proverbs 17:1)
Share without pretending (Ephesians 4:15)
Enjoy without complaint (Philippians 2:14)
Trust without wavering (1 Corinthians 13:7)
Forgive without punishing (Colossians 3:13)
Promise without forgetting  (Proverbs 13:12)